You've certainly Samsung Smart TV with you and you're looking to have a full blast with entertainment content. Isn't it??? So, let's reinvent the best Samsung smart tv apps here.
Well, If that's your requirement then this is the perfect page that nullifies your need. I'll write down the set of applications that perfectly suits your Samsung Smart TV.
As we all know Samsung is the symbol of dignity and everyone is willing to have it.
The TV works extremely great when it is paired up with outstanding apps. We will have an amazing content viewing experience.
Whatnot, you can watch everything with the help of Samsung Smart TV apps. From your favourite movies to the latest TV Shows, from music streaming to live TV.
However, we have a huge catalogue with thousands of applications to pick from, and often leads to confusion – which one do we need to choose? Okay, that's exactly what I'm going to discuss.
We rally the top 20+, handpicked apps for Samsung Smart TV for you to choose from. These best apps are compatible with all the models of Samsung TV devices.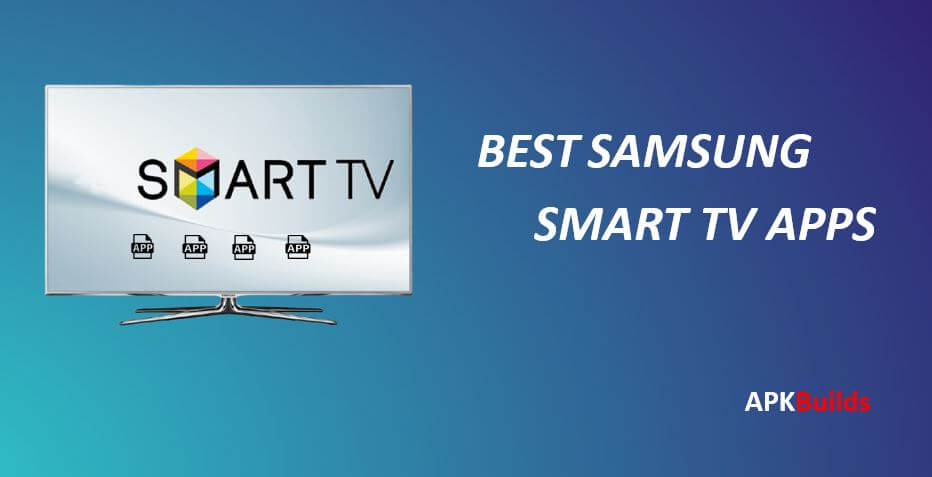 If you have finally decided to cut the cord and use a Samsung TV to supply you with entertainment, it always helps to have a list of the best Smart TV apps for streaming.
I took factors such as a user interface, content, and quality into consideration while assembling this list of the best ones for 2021.
List of Best Apps for Samsung Smart TV for free Movies/Shows
We have many apps that deliver free entertainment content for Samsung Smart TV. But, I'm giving you the best ones that top amongst all. Let's discuss the apps one by one.
1. Cinema HD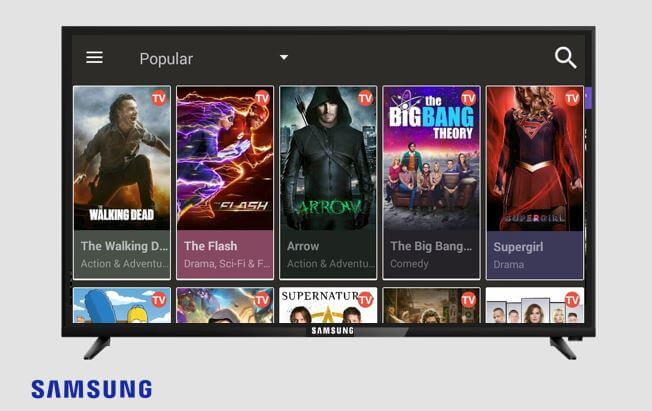 Cinema HD is an inevitable application for movies and TV Shows. It becomes popular and came into existence right after the shutdown of Terrarium TV and Showbox. Now it is referred to as a mainstream application for free movies and TV Shows.
It becomes a must-have application in a short span of time. Cinema HD is popular with thousands of hours of streaming content and unlimited TV Shows.
The content library is regularly updated with new releases. The app itself gets regular software updates, making it better with time.
Cinema HD, just like Terrarium TV, does not host any content of its own. It is an aggregator that fetches the streaming links from multiple servers in various locations.
Fetching the quality streams is one of the most important aspects of such service, and Cinema HD does the job well.
App Link: Cinema HD Download
2. FilmPlus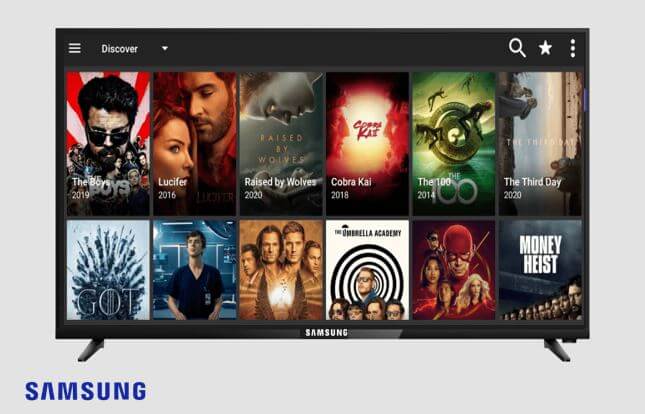 As I would say, FilmPlus is the latest application that emerging like no other app in the streaming industry. It is famous for its large collection of movies and other video content.
FilmPlus is a new multi-platform app for finding entertainment content online. It continuously crawls the web, fetches popular movies and TV shows, and makes them available on the user's device.
As we all know many entertainment apps are rolling out because of different reasons. But, the Filmplus app is the latest one and has a great source of movies and TV Shows.
I must say, you can stream the content relentlessly and I'm sure it is not going to be shut down soon. So you can stream this application on your Samsung Smart TV as long as you want.
Within a few days of release, it has got a record number of active installs across several platforms.
3. Cybeflix TV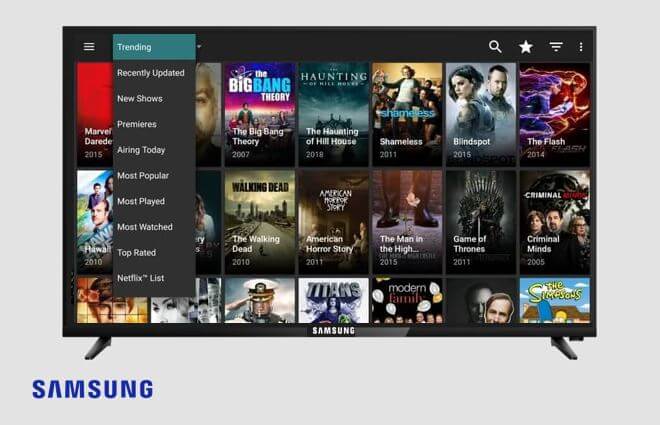 The main reason for the outcome of Cyberflix TV is the shutdown of Terrarium TV. The shut down of Terrarium TV resulted in the creation of many cloning applications.
As I said earlier, Cyberflix TV is a clone, so it looks exactly like Terrarium TV. It crawls the internet and fetches video streams from many sources and give us quality content.
One feature that makes CyberFlix TV worth downloading is its ability to give you access to your Real-Debrid account, which will allow you to watch HD streams as well. Plus, this app doesn't require you to create an account.
4. Typhoon TV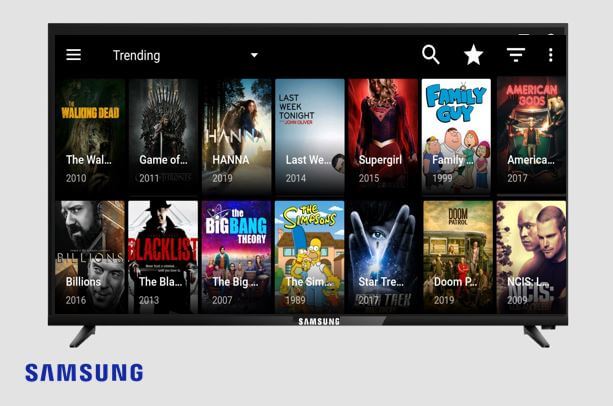 There are some speculations that Typhoon TV has been rolled out but that doesn't right. I tried this application and working absolutely fine.
You can download this application on your TV and enjoy watching movies and TV Shows.
One special about this app is, it offers an inbuilt media player that can be replaced with either an MX media viewer or a VLC player.
It fetches excellent streams to give users the best experience with no ads.
5. UnlockMyTV APK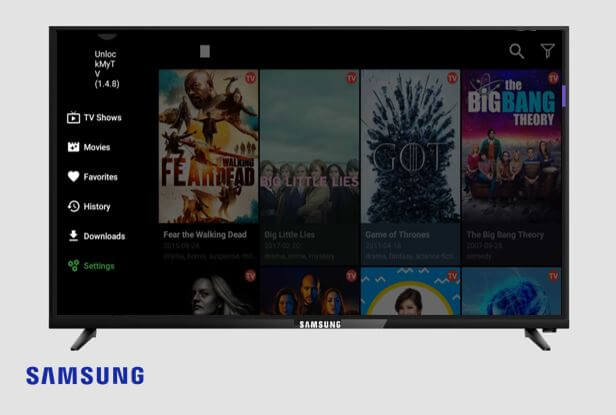 It is another promising application that perfectly suits your Samsung Smart TV. It provides high-quality content and fetches the links without error.
UnlockMyTV is an entirely ad-free application and offers HD video content. You'll get all the latest movies and TV Shows as it updates regularly.
App Link: Download Now
6. TeaTV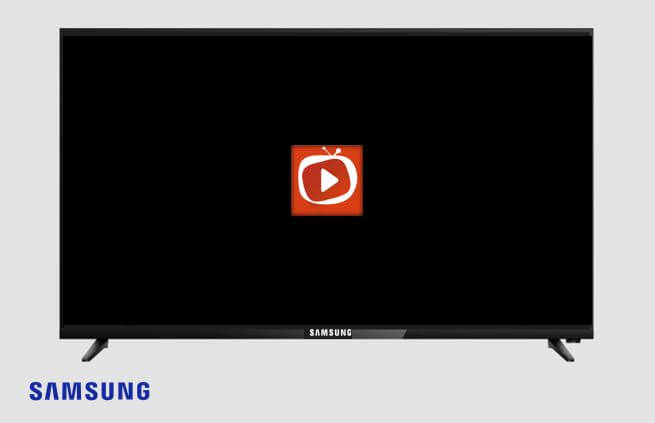 TeaTV has a huge collection of video content that fulfils all your entertainment needs. It has a solid line-up of movies and shows and a straightforward interface. TeaTV is a lightweight application and you won't get any intermittent issues with the app.
It is another free entertainment application for your Samsung Smart TV. You can enjoy unlimited movies and TV Shows on your TV.
7. BeeTV
If you're looking for an app with an endless collection of movies and TV Shows for your TV, then BeeTV is a perfect choice.
BeeTV has an enormous content library that you can binge-watch for thousands of movies and TV Shows. Like other applications, it doesn't host any content of its own. It also features real-debrid which helps the app to fetch higher quality links.
8. FreeFlix HQ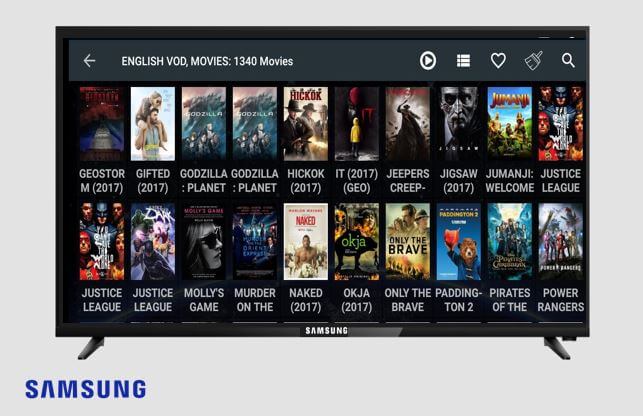 It's a free movie streaming application for your Smart TV and lets you access a large library of on-demand movies, series, TV Shows and documentaries. It updates the content regularly so you will get all the latest entertainment content.
FreeFlix HQ has a simple interface and makes our search even easier. You can find all sorts of movies/TV Shows with a single click.
9. Tubi TV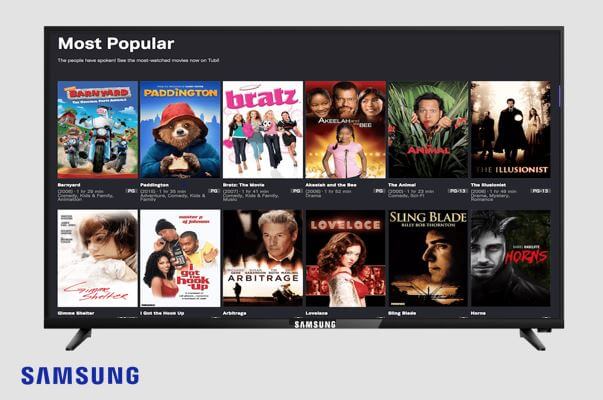 Tubi TV is a streaming service and you can Watch Free Movies and TV Shows online with the help of Tubi TV. It's a perfect application for you to kill the time with full of movies.
It provides a wide range of content to your Samsung Smart TV, including movies, shows, kid's shows, documentaries, and podcasts.
One important feature about this is, it's an ad-free application. We can enjoy the video content without any commercials.
10. CatMouse APK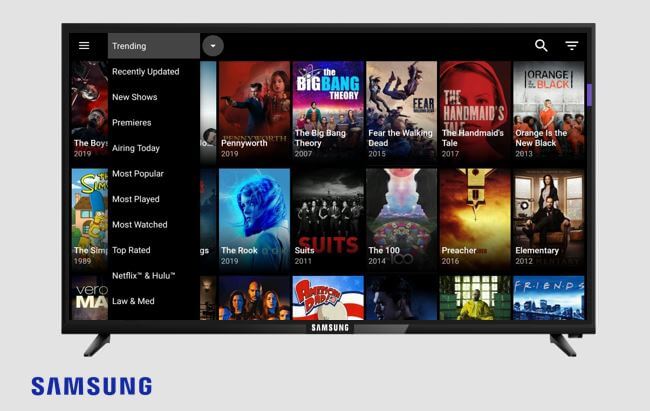 If you want to stream on-demand video content on your TV, go for CatMouse APK. It's another great application that provides high-quality movies and TV Shows. It's completely free to use.
CatMouse fetches you quality streaming links from trusted and top sources, so you no longer need to compromise with content and vulnerability.
As I can see the quality in its content, it would be the must-have application for your Samsung Smart TV.
11. Crackle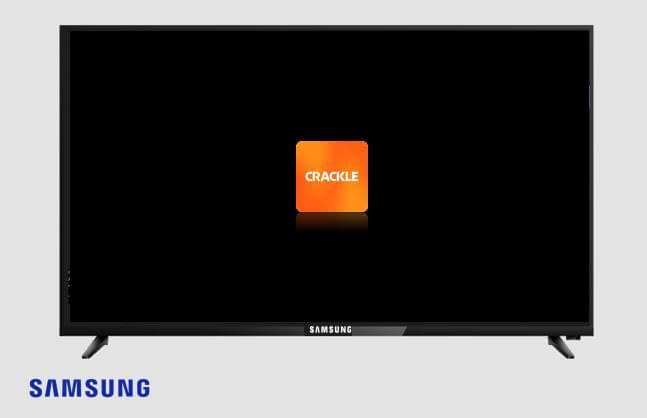 Crackle is a free streaming service that allows you to watch the latest movies right on your TV. This application is developed by Sony Entertainment.
It is famous for its award-winning films and TV Shows. If you're a true entertainment lover, then you must Crackle on your TV.
It comes with parental control feature so that you can limit the children to access adult content. You can filter the content according to age group. So, it is much helpful and you can get the content quickly.
12. Kodi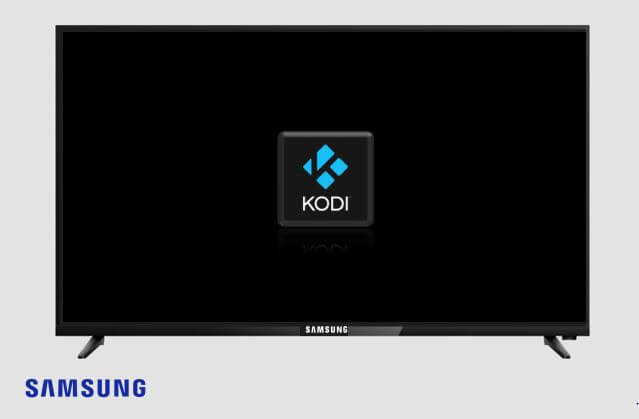 As you know Kodi is an open-source application, so everyone can download it easily. Its elegant UI allows even a newbie to watch movies and TV Shows at his fingertips.
From Kodi, you can get thousands of movies and series of almost all genres. It is very well compatible with Samsung Smart TV. Simply, download the app and watch your favourite content.
13. Vudu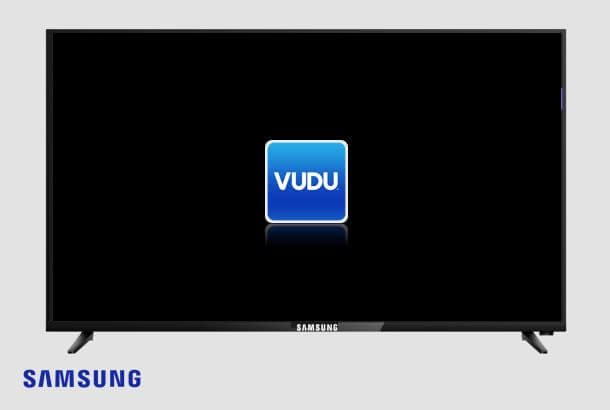 If you would like to have a legal streaming app that you want to stream on your TV, then Vudu is the correct choice for you. Download the app and watch the latest entertainment content.
It's an American-based video streaming service, and it supports renting or buying Movies and TV Shows.
14. Syncler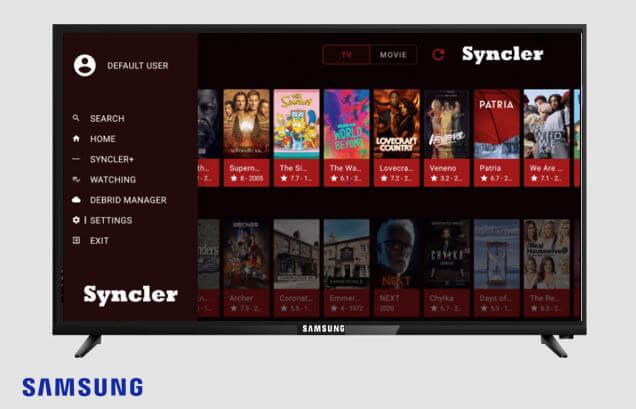 Syncler is the application by which you can watch both TV Content and Over The Top(OTT) content in one place. You will get all the popular movies, series, podcasts and documentaries.
We do have a premium version of Syncler, we can unlock some advanced features. It's a unique app with a Real-Debrid feature to sync all the content from the TVZion application.
15. VivaTV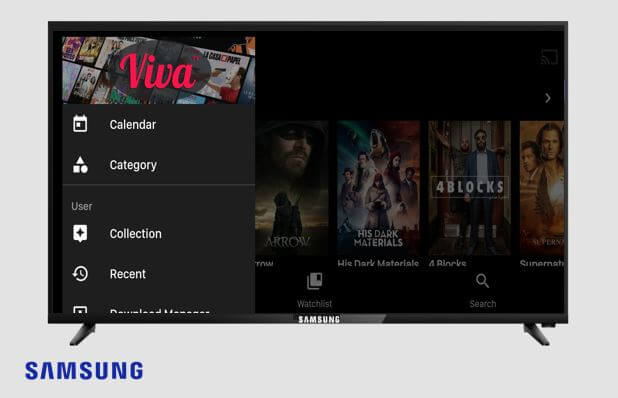 It's an online video streaming application where you can watch hundreds of movies, TV Shows of different languages on a single platform.
Viva TV provides different links of various qualities from 360p to 1080p. We can select any content from multiple genres, like Romance, Action, Horror, Thriller, and Sci-Fi.
It offers subtitles in more than 15 languages so that you can enjoy the films of other languages too.
Till now, we have seen some of the best apps for streaming free movies and TV Shows. Those are the 3rd party application that doesn't mean illegal. Due to some device restrictions, they've not been added to Samsung Apps Store.
Let's now move on to the apps that you can use directly without any turnaround method and will get them on your Samsung Smart TV itself.
I'm going to explain some free inbuilt apps on your TV.
Top Free Apps for Samsung TV from its Store
If you go to Apps Store, you will see several applications that are hovering on that section. Yes, Samsung supports many apps and for easy access, it saves them in their store.
It is very easy to get the apps from its store, just go to the section and click on the install button. Sit back and relax, the app will be installed. Open the app and enjoy watching your favourite content.
Many apps are arranged neatly. You can see a set of applications in a category wise such as Most Popular, Games, Sports and Lifestyle etc…
1. TED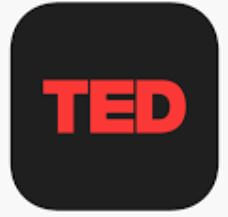 TED is a global community that believes powerful ideas are the strongest weapons to change the attitudes, lives and, ultimately the world. It gives us riveting talks from remarkable people.
It presents talks from some of the world's most eminent people: educational radicals, medical mavericks, tech geniuses, music legends and business gurus. You can find more than 1000+ talks on the TED App.
You don't need to download this app on your Samsung Smart TV, it is a built-in function on your TV.
2. Netflix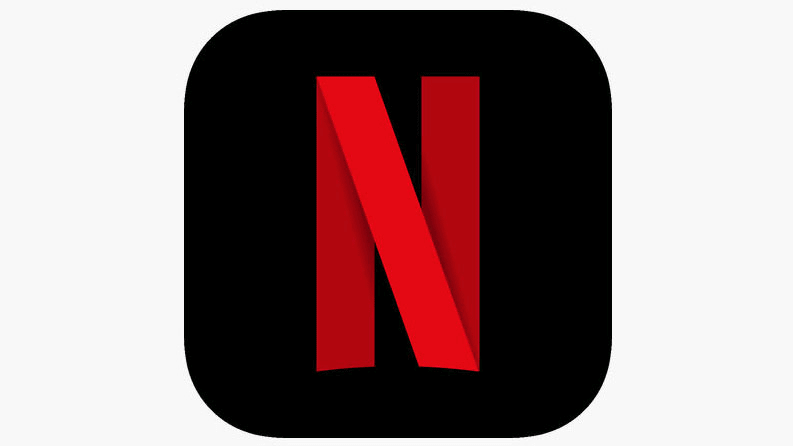 Netflix is American based OTT platform that is famous for nail-biting series and thrilling movies. It is one of the most trending applications and allows you to access the latest series and incredible movies.
It is by default available in Samsung App Store. You're to required to sign up and use the app.
3. Spotify

If you're a true music lover, then you'll love this application. Spotify is the number #1 music streaming application that allows you to access millions of songs, podcasts, and other audio content right here on the big screen.
You can categorise the songs based on your interest. Like if you're working out, partying or relaxing, the right music is at your fingertips. Choose what you want to listen to, and let Spotify surprise you.
4. Prime Video
Prime Video is a subscription-based OTT platform to watch on-demand videos. It's a part of Amazon's Prime subscription.
Watch Unlimted Movies, TV Shows and stream the latest & exclusive Hollywood movies, US TV & Kids shows. With easy parental control settings, you can have a dedicated kids page, secure, ad-free kids entertainment.
It can be used on multiple devices with no ads and high-quality content.
5. Pandora
It's another music application that adds value to your Samsung Smart TV. If you're facing any problem with Spotify, then it is an alternative app for you. It gives you a personalized music experience that copes up with your music tastes.
If you want more songs and advanced features, then go for Pandora Premium to enjoy on-demand music.
6. Hotstar
It's an online video streaming platform and currently offers over 1,00,000 hours of TV content and movies across several languages.
And every major sport converted live. You will get high quality of experience across your Samsung Smart TV. It has a huge content catalogue and produces original TV Shows.
7. Samsung Internet
It's a web browser for your Smart TV developed by Samsung Electronics. It provides you with the best web browsing experience with a video assistant, dark mode, extensions, and a customised menu.
Samsung Internet is a fast, simple and reliable web browser for your Samsung devices.
8. Vimeo
Vimeo is an optimized video streaming utility that allows users to upload and promote their videos with a high degree of customization.
It attracted a wide range of content creators for its unique features. Vimeo focuses mainly on high-end video and audio quality. It pulls the attention of many people right from documentarians, filmmakers to graphic designers and animators.
Vimeo is available on your Samsung Smart TV for free.
9. HBO Now
Famous dramas such as Game of Thrones and I May Destroy You are the hallmarks of this application. HBO Now regularly update the list of best shows of other renowned platforms like Netflix, Prime Video and Hulu.
As I promise you, no other app can beat the content of HBO Now. With this app, you can access a wide variety of recently released movies and also watch big premiers as they are on air.
10. Plex
Plex App allows you to use your Samsung TV to browse and play your entertainment content using the Plex Media Server. It gives you an incredible video watching experience and never let you down irrespective of quality and Simple UI.
I recommend you have this media application installed on your TV to better view movies and TV Shows.
11. YouTube
It's not an exaggeration that, no one in the world doesn't know about YouTube.
You know YouTube ranks best among all the entertainment apps. I can call it a Video encyclopedia. You'll find almost every video on YouTube. It's a one-stop destination for all entertainment loves. It's famous because of its friendly user interface.
12. Hulu
This is the reach point where you can watch OTT and TV channels in one place. You can stream movies and interesting Series from Hulu.
Watch new & exclusive TV Series on your TV with the greatest quality. For the latest releases, you must subscribe to the relevant plan. You've got the option to cancel the plan at any time.
How to Install third-party apps on Samsung Smart TV
All the apps that I've mentioned in the first section will need to be installed by the following method.
Until now, we are only dealing with Samsung Smart TV. But, here we require a computer to install 3rd party apps on TV. So, be ready with the computer and make sure that the TV and computer are connected to the same wireless network.
Approaches to Install 3rd party apps
Enable Unknown Sources Feature on Smart TV
Allow Developer Mode Option
Sideloading Apps from Computer to the TV
1. Enable Unknown Sources
The apps which are from Samsung Smart TV Store can be installed directly on your TV. But for some apps, we're required allow give some special permission to be installed. Let me tell you how we can do…
Turn On your Samsung Smart TV.
Settings.
Then Personal.
Select Security Option.
Go to Add-ons and then move on to Unknown Sources
Switch the knob to turn on the Option.
With this, we've successfully allowed some third-party apps to install on TV.
2. Enter into Developer Mode Options
This one allows you to download some useful 3rd party applications and tweak them into your TV.
Please note down the IP address of the computer from which you're going to download third-party apps. Find IP address by going through Settings >>> Networks.
Go to the Settings page.
Please Select the Smart Hub option.
Now navigate to the Apps section.
To access the Apps section, you will be asked to enter a PIN.
Enter the default PIN for all the Samsung Smart TV's that is 12345.
You're now entered into the Developer Mode Window.
Turn on the option and enter the IP address of the computer.
Just Reboot(Turn Off and Turn On) the TV to take the changes with an immediate effect.
Likewise, we have to Enable the Developer Mode Option.
3. Adding Apps from Computer to TV
Installing external apps on Samsung Smart TV can be done by following 2 simple methods.
Using USB Flash Drive
With the help of Command Prompt
1. Install the by using USB Flash Drive
On your computer, open the web browser.
Download the applications by following the above URLs.
Now plug the USB Driver into your computer.
Copy the .apk file into the USB Drive.
Plug the USB Drive into your TV and then find the.apk file in the drive.
Right-click on the file and select Install.
That's it.
Once the installation completes, open the app and enjoy its services on your TV.
2. Install 3rd Party Apps via Command Prompt
Before starting this method, please ensure that your computer and TV are counted to the same wireless network. This method uses a command prompt on your computer to install the 3rd party apps.
Switch on your TV.
Go to Settings and then select Network.
Click on Information, you'll see the IP address of your TV. Please note it down.
On your Computer, open the Command Prompt. ( In the search box, you can enter cmd to access it)
Once Command Prompt is opened, enter type adb connect (IP address of your TV) and hit ENTER.
Type install C\install.apk command and hit Enter (C represents the file location)
Hold for some time for the installation to complete.
Once the installation, disconnect the TV from the Computer by entering adb disconnect (IP address of your TV).
Now navigate to the Smart HUB and open the application.
FAQs
1. How to Update Samsung Smart TV Apps?
You can update the apps in two ways. It's very simple and easy
a) Automatic Update Feature: Go to Settings >>> Apps >>> Options >>> Auto Update >>> Turn ON
b) Manual Updation: Smart HUB >>> Apps >>> (Press & Hold Apps Menu) >>> Update Apps >>> (See if there is any update is available) >>> Update

2. Why did my Samsung Smart TV apps have disappeared?
There are multiple reasons for which apps are not appearing. Maybe there is an internet connectivity issue if your internet has a problem, app icons may disappear. Or Your TV has outdated software, technical errors may cause this.

To get back your apps on the TV, you can try either of the ways. Try resetting the Smart HUB and trying to give full reset and finally go for Factory reset. Any one of the methods yields the result.
3. What do I need to do when Samsung Smart TV is not working?
You can fix the issue by following ways…
a)Cold boot the TV: With TV Remote, hold the Power button until the TV Power off and Powe ON by itself. When you observe the Samsung Logo on the screen, you can release the button. If the TV is not rebooting by itself, just unplug the TV from a power source and connect it again.
b)Software Updates: Your TV will not if any software update is pending. To resolve that go to Menu >>> Support >>> Software Update. Check for the updates and update the TV accordingly.
4. How to lock/unlock the app on TV?
Please navigate to the following options to lock/unlock your TV. Go to Smart Hub >>> Apps >>> Settings(Top Right Corner) >>> (Select the app for which your want to lock/unlock) Enter TV PIN (By default it will be 12345) >>> Done.
5. What are the ways to delete the apps?
Delete the apps by going to Smart HUB >>> Apps >>> Settings(Top Right Corner) >>> Delete >>> Confirm Delete.