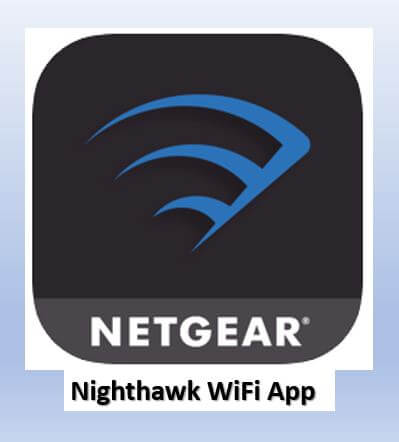 Latest Version 2.5.4.1036
---
Download and Install Netgear Nighthawk App from this page. This is a next-generation app to manage all devices that are connected to WiFi. Nighthawk app for PC is an advanced and safety application for Netgear Routers.
What is Netgear Nighthawk App?
It is formerly known as Up App. It enables you to easily set up, control, monitor your home WiFi connection. Nighthawk app can be configured to manage Netgear Routers with a simple dashboard to monitor, control and repair networks.
Let's learn about the important features of the app which tells us why to use Nighthawk app. It supports the following features
Parental Controls: Nighthawk app allows you to monitor children's activity over the network. You can filter the content and limit the online time automatically.
Traffic Meter: How much internet you are using can be known by Internet traffic meter feature. It let you monitor time by time.
Guest WiFi: You do can create multiple Wi-Fi connections. One can create a separate and secure Wi-Fi connection for the guests.
Pause WiFi: If there are any updates are available in Router or Nighthawk, you can update them by pausing WiFi.
Advanced Security and Safety: Nighthawk app provides a fantastic feature, To protect all the connected devices from the hackers and online threats, it offers advanced cybersecurity feature.
Remote Management: With this remote management feature, one can control the activities of your WiFi network from anywhere. You can monitor and control your WiFi.
Speed Test: It also enables you to check the internet speed. Inbuilt Ookla feature enables you to check the internet speeds that you're paying for.
WiFi Settings: You can set or modify the WiFi settings in an easy manner. With this, you can configure the name, password.
App Info
| | |
| --- | --- |
| Name | Netgear Nighthawk App |
| Latest Version | 2.5.4.1036 |
| Size | 96.1 MB |
| Updated On | May 30, 2020 |
| Developed By | Netgear,Inc |
Since our aim is to get a Nighthawk app for PC, it can be done in two steps. One is to Set up Netgear router and other is Installing Nighthawk app on PC to connect internet.
1. Set Up Netgear Router
First of all, connect your Modem to ISP by DSL/LAN cable.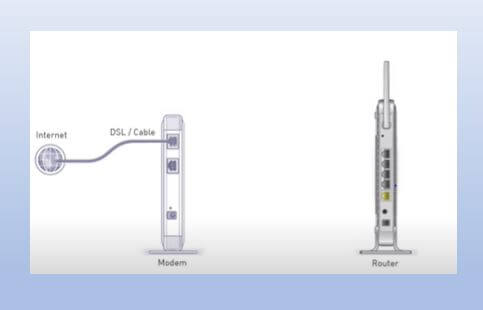 Make the connection between your modem and router by using LAN Cables.
Next, connect another LAN cable between computer and your Netgear Router.
You will now notice that the Router is ON and it's ready for tethering.
Once after, setting up the router it's time for you to connect to the internet via Nighthawk application.
Since the app is only available in .apk form, you will have to use the Android emulators to install the application on a computer. I will explain to you the procedure by using BlueStacks Emulator.
2. Installing Nighthawk App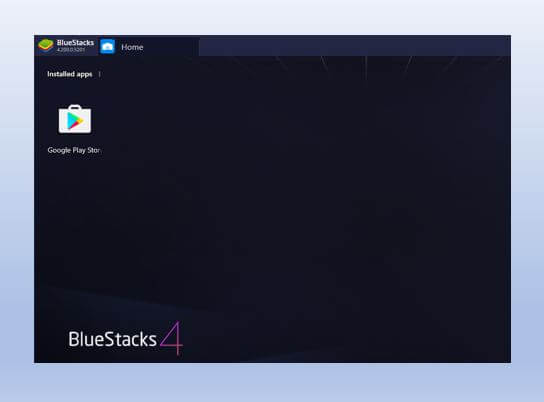 Next, go to play store and search for Nighthawk application.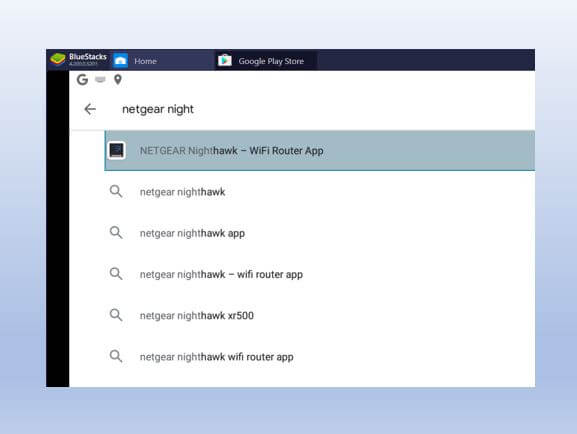 By following the appropriate steps, install the application.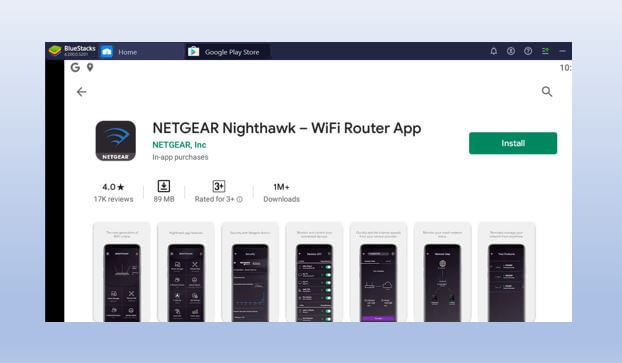 How to Use the App
Open the app and click on GET STARTED.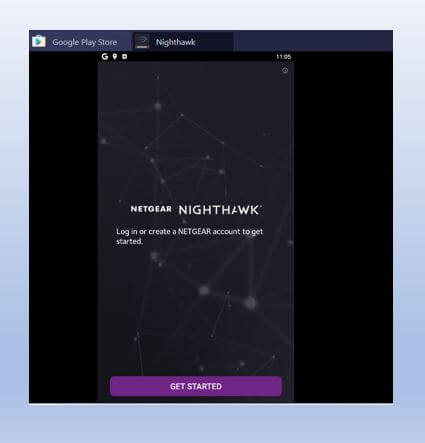 Click on CREATE ACCOUNT and follow the on-screen commands.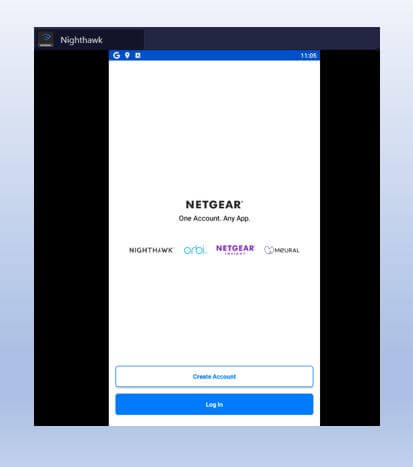 Later, connect to Netgear Router by using default WiFi Name and Password.
Now come back to Nighthawk app and personalize your WiFi settings.
You can even set the security questions which will help in recovering admin credentials later.
Give some time for the Router to update the settings.
You can now see Netgear Account has been created with the Nighthawk app.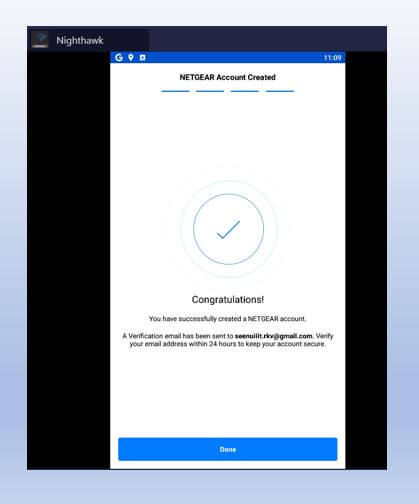 Connect to WiFi network again with the updated User Name and Password.
Make sure that, you're using an updated version of Nighthawk app.
You're all set up to enjoy the internet!!!
Frequently Asked Questions
How do I change the Name and Password for WiFi Network?
You can change them by Settings >>> WiFi >>> Network Name & Network Key
I am not getting internet through nighthawk app?
Uninstall the app and disconnect all the connections and try installing Netgear router using Nighthawk app again
Does this app compatible with Mac?
Yes, it is compatible but you will have to use Emulators to get it done.
Can I use this app for free?
Yes, you can use this app for free. Since this a complimentary app, it won't ask you any credit/debit card.
Is it safe to use the app?
It provides advance security, you no need to fear about vulnerabilities.
What type of Routers does Nighthawk app support?
RAX 15, RAX 20, RAX 35, RAX 40, R6230, R6330, R6700, R6700v2, R6700v3, etc..,