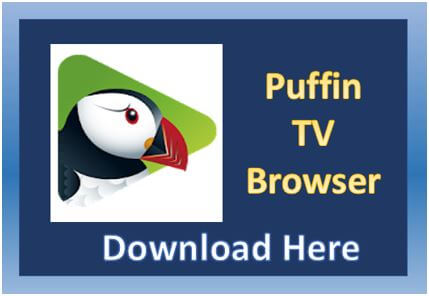 Install Puffin TV Browser and do seamless surfing on your Android TV.
---
As you know Android TV doesn't come with a standard web browser for surfing. In most of the cases, we won't require any type of web browsers on TV, by some reason what if we want browser? The default browser and its functionality is not user friendly. It's very hard to use. So, you should require a sophisticated browser on your TV for surfing. In this module, let's know about a fantastic Android TV-Browser called Puffin TV.
What is Puffin TV Browser???
It is a web browser that only designed for Android TV. It offers a unique way to browse the internet on your TV. Puffin TV Browser optimized for Android TV Users for internet surfing, music listening and video watching. It is faster than native browsing applications. The performance of this application is exceptional on entry-level android TV Sets.
Why?
Well, you may question me that in spite of having traditional web browsers like Google Chome and Firefox, why to go only for Puffin TV Browser? The answer is obvious, as this is an apk you can directly install the app on your Android TV. In contrast, to install Chrome and Firefox you must sideload the application which is not simple practically. One more interesting thing about this browser that it removes in-build web browser UI for an Android TV.
Let's now discuss the important features of Puffin TV Browser.
Features
Web Experience: In-built web browsers for android TV are not user friendly, we are not able to experience them fully. But, this app gives you the complete web experience so that even beginner can use this app.
Page Speed: This app offers exceptional page speed when compared to other browsers. It overcomes the issue of slow loading page by Cloud Accelerated Web Engine. It speeds up browsing by shifting the workload to cloud servers from resource-limited devices.
Great User Interface: If you start using this app, I'm sure you'll love this. A solid built-in push web page makes navigation is as simple as such.
Encrypted Traffic: Whenever you use the internet from public domains, there is a possibility that your system easily exposed to hackers. To provide secure browsing, it offers you that fully encrypted network traffic.
Supports Flash Content: Some web browsers did not support flash content but theatre mode in Puffin TV Browser enables you to play flash content on your Android TV.
By using Send URL feature, you can bookmark a recommended website or favourite channel to your TV.
With a smart pointer, it is easy for navigation between the pages.
Limitations
Like any other application, this browser also has some limitations.
This app is not available across the globe because of geolocation restrictions.
As the data centres of Puffin are located only in the US, cloud servers can only access public websites from the US geolocations.
So, it is blocked in some countries like UAE, China, etc..,
It lacks some of the traditional features.
Sometimes you may face performances issues. It often keeps restarting.
App Info
| | |
| --- | --- |
| App Name | Puffin TV Browser |
| Latest Version | 8.3.1.41486 |
| Updated On | Apr 07, 2020 |
| Size | Differ from System to System |
| Android OS | 5. 0 and above |
| Developed By | CloudMosa, Inc |
Once we had come across features and limitations of the application, it's time for us to go further. Let's see how to install and use the application.
However, it is helpful to enable the apps from unknown sources on your Android TV. It can be done by
Home Page >>> Settings >>> Security & Restrictions >>> Toggle Unknown Sources
Download and Install Puffin TV Browser
Make sure that, your Android TV logged in with active Google account.
Next, Go to Play Store.
Click on the magnifying glass and search for Puffin TV Browser.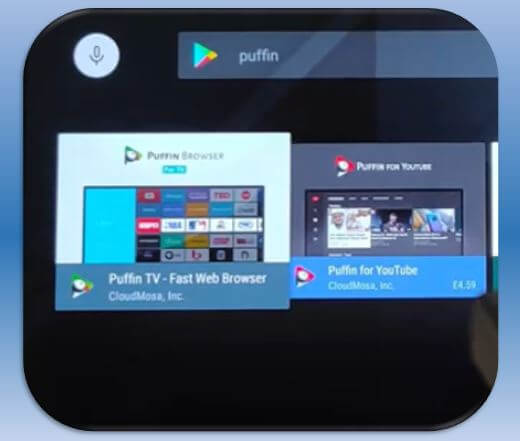 Select Puffin Browser and click on Install Button.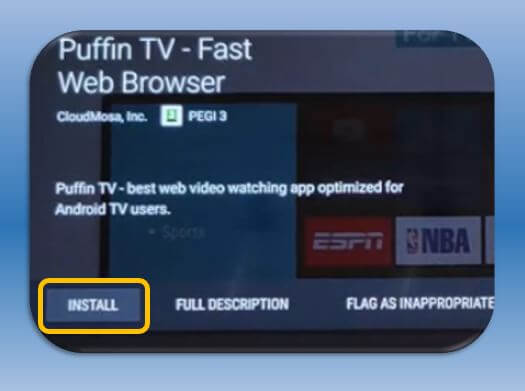 Spare some time for the download and installation.
Now Puffin Browser installed on your TV. Enjoy Surfing!!!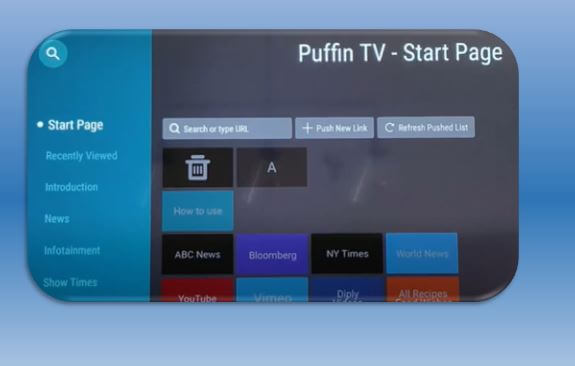 Pics credits – https://www.youtube.com/watch?v=F0JNsqPR5jA
FAQs
Is it safe to Use Puffin TV browser?
As far as, if you use it for safe browsing, Puffin TV browser is very safe and it doesn't harm your device. It all depends on how you use the browser.
How to use the application?
It is very easy to use the app, as you just open it and browse whatever you want.
Is this app country-specific or available globally?
Yes, it is available only in the US and not accessible in other countries due to its geolocation restrictions.
What are the alternatives web browsers for Android Tv?
Chrome, Firefox, Kiwi browsers are named as an alternative for Puffin TV browser.
Can I Use this for Fire TV?
No, you can't use. It is specially designed for Android TV's.