In this article, I'm going to illustrate PdaNet+ APK. It is something new, right??? I may say, you've not heard it before. Trust me, it's a different concept for me as well. I got to know about this, while I was surfing through the internet about tethering devices. This found to be interesting and helpful, so I'm writing an article for you.
I must say, there's is nothing apart from the internet in this modern era. By somehow all are associated with a robust technical giant called the Internet.
Ok…enough bragging. Let's now discuss what is what and what's special about PdaNet+.
What is PdaNet+?
PdaNet+ is an android application by which you can transform your mobile phone into the modem. In one word, we can say it is an Android application for Internet sharing. It uses sophisticated technology called Tethering. This implies you do not worry to find a Wi-Fi hotspot or being in the proximity of the wireless access point.
Download PdaNet+ APK Latest Version
| | |
| --- | --- |
| Version | 5.22 |
| Android OS | 4.1 or later |
| Size | 283 KB |
| Last Updated | April 21, 2020 |
Though it is easy to set up a Wi-Fi connection, equipment and cost are somewhat high. To avoid the expenses, we will use this PdaNet+ android application to make our job easier. In this, the smartphone will act as a tethering point.
Tethering Smartphone using PdaNet+
To tether smartphone, you're required to install PdaNet+ app on your smartphone and computer as well. Let me discuss the detailed steps below.
Make sure to download PdaNet+ for Windows computer. Use this link.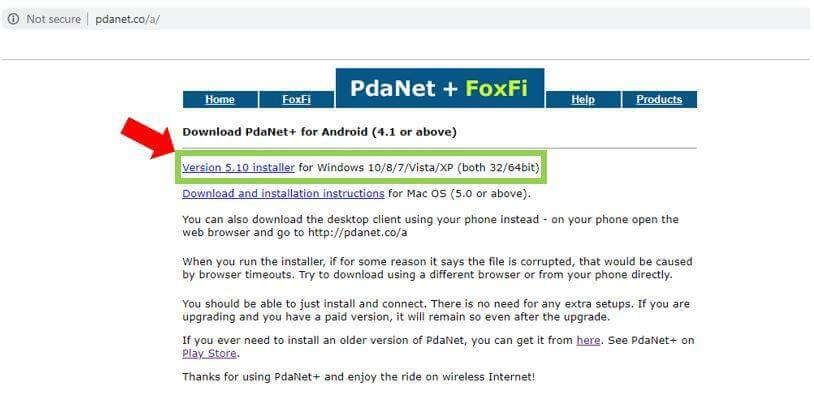 While installation, you may get a prompt saying that connect your android device. Just hold on here for some time.
Next, install the PdaNet+ on your smartphone. You can find the app in Google Play Store which is developed by June Fabrics Technology Inc.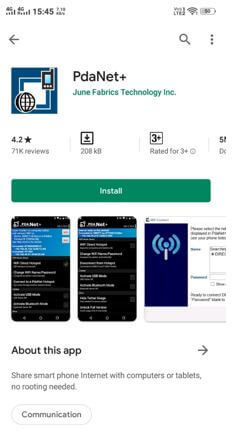 To sideload the app, you must enable the USB debugging. Go to settings and enable the option accordingly.
In case if you don't know how to enable USB debugging, you'll find many guides on the internet
Now connect your smartphone to computer via USB cable.
Open PdaNet+ on your Android, select USB Tether.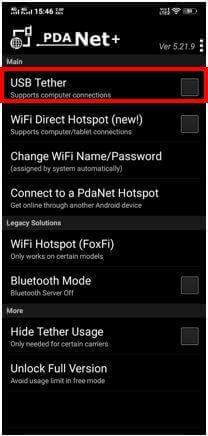 Next, move on to Computer, and click on Install.
The installer will ask you to allow USB debugging.
Now, open your smartphone and you should see debug request. Click on Always allow from this computer and then press on Ok.
Once you tap on Ok, the installation will take place. You should now see Installation Succeded on your Windows computer.
Do not forget to Tick mark on Connect PdaNet+ after installation and then choose USB Mode. After that click on Finish.
Now, turn on your internet, there you can see your computer is connected.
With this, the computer is connected to the internet with the help of PdaNet+ application.
Editor's Note

In recent times, many smart phones comes up with build-in hotspot function. You can find this by navigating to Settings >>> Personal Hotspot >>> Wi-Fi Hotspot. If you have this facility, then you don't have to install PdaNet+. That was pretty much simpler than this application.
Conclusion
That is all about PdaNet+ apk. I've seen some tutorials on PdaNet+ on the internet and it found to be somewhat baffled. But, here in this article, we tried max to avoid clumsiness. The steps are made to be self-explanatory. Still, if you're finding any difficulties while following the steps, please reach us via comment box. We're here to help you always. If you like my work, kindly share this to your friends and fellow members. Happy Browsing!!!