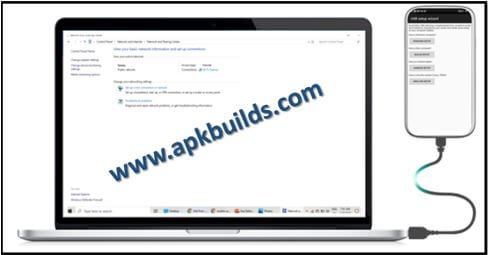 Install EasyTether Pro on a smartphone to share the internet with your computer.
Do you want a seamless internet access point in no time? Then, Download the EasyTether Pro apk from this page and tether to Windows, Mac, OS X, Linux or Android Tablets.
You may have a doubt, in spite of having Hotspot feature in a smartphone, Why to go for EasyTether Pro? To know the answer to that, just scroll down the page. As you know, nowadays the smartphone comes with incredible features. What not, everything is at our fingertips. The WiFi feature is one among them. You can easily share the internet connection from your smartphone to a computer. But, As long as you use a mobile hotspot, the device gets hotter and we are not able to enjoy the high speeds of the internet.
EasyTether Pro
As the name itself suggest that, the application is a premium version of EasyTether Lite. This is an awesome application which shares internet connection from your smartphone with your Tablet, Computer or Router. As this is an extended application for your smartphone, it uses the same data pack that is used for mobile phone.
I would recommend you to please use EasyTether Lite before purchasing the PRO version. It's time for us to know the fantastic features of the app.
Features
Simple GUI: This is extremely lightweight and simple application comes with an efficient GUI. All the options are self-explanatory.
Compatibility: You can use this application across several platforms, namely Windows, Mac, Linux, Android Tablets, etc..
Bluetooth & USB Tethering: It supports both Bluetooth and USB tethering for Windows, Linux, Mac.
Supports Gaming Consoles: With EasyTether Pro, you can easily share the internet to Xbox, PS 3/4 and Wii.
EasyTether Pro doesn't require any root access or special tethering process.
One time fee and lifetime use.
For all the carriers, the app works in the same way. There is no difference in its functionality.
As this app uses the official APIs, it ensures your device security.
Let's review the additional information about the app.
App Name
EasyTether Pro
Developer
Mobile Stream
Genre
Communications
Latest Version
1.1.19
Android OS
1.5 and Above
File size
158kb
File Permissions
pair with Bluetooth devices
access Bluetooth settings
full network access
run at startup
prevent device from sleeping
Please note that both EasyTether Pro and EasyTether Lite has the same steps for installation and connection set up. The only difference is, for the pro version you need to make the payment first and then follow the below steps. If you have any issues with app, you can report at [email protected] or else you can comment them on below.
How to Install EasyTether Pro
Click here to download the app.
Next, it'll be redirected to Google Play store. There only you can do payment and download the application.
As this is not a third-party application, you don't need to root the device.
After downloading EasyTether Pro, install it like any other android application.
How to Establish a Connection
Please ensure to have appropriate drivers for your Windows/Mac/Linux computer to compatible with EasyTether Pro app.
Please click here for the drivers. Download the drivers according to your system OS and install them.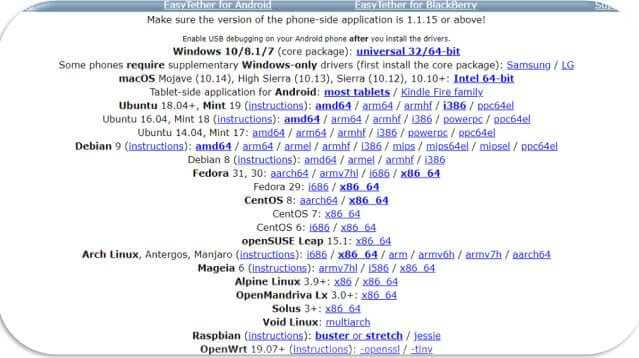 Now open the app on your smartphone.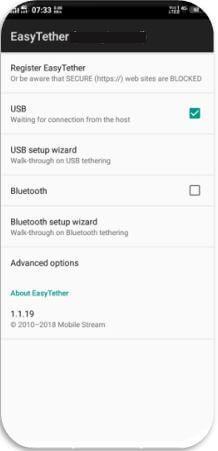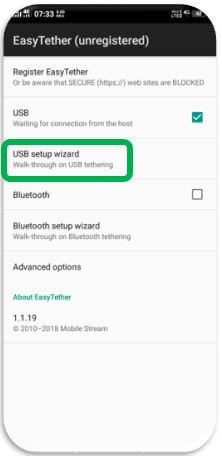 Next, select what type of computer you are using from the below options.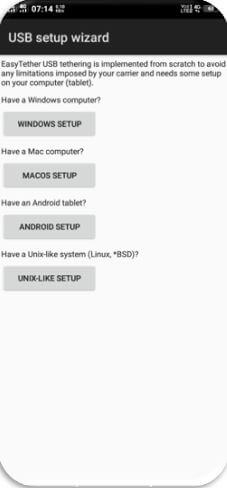 Do not ignore the prompts and go on tap NEXT.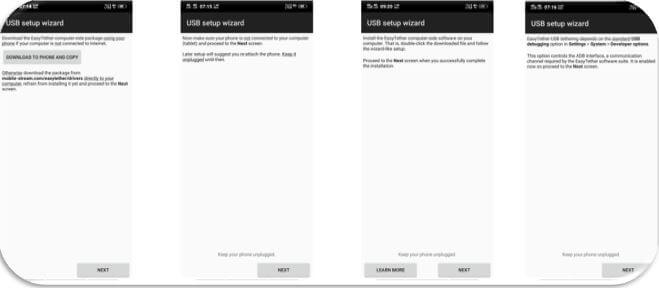 Using the USB cable connect your smartphone to the computer and then tap on NEXT.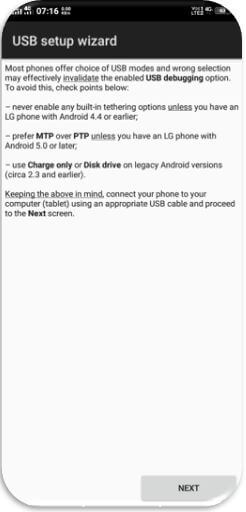 Right-click on the EasyTether icon on the Windows taskbar and select USB: Android.
You will now see, EasyTeter: CONNECTED! prompt.

Frequently Asked Questions
How do I make the payment?
With Google Payment app you can directly make the payments. Or you can pay with your Credit/Debit Card.
What is the difference between EasyTether Lite Vs EasyTether Pro?
EasyTether Lite has some limitations, it tries to block some secure websites like Google, Gmail, Facebook, Amazon, and will not support Xbox One/PS 3/4. Whereas, the pro version doesn't have such limitations.
Does it cost to reinstall/update the app?
No, it won't costs. This app well knows as One-time fee and lifetime use.
Do I need to root my smartphone to use EasyTether Pro?
No, it doesn't require as the app uses only official APIs. It's a normal low-privileged Android Application
Does app support for all the latest versions of Android?
Yes, it does supports. But newer versions of Andriod require an update of computer-side software.