I would say, TeleVision is the second most entertainment source nowadays. We can get everything from TV, what not? starting from live channels, Movies and Songs and many more. The TV industry has gone a step ahead and introduced the different Operating Systems to the TeleVisions. In this page, let's discuss how to add apps to Vizio Smart TV and how to install third-party applications to the TV.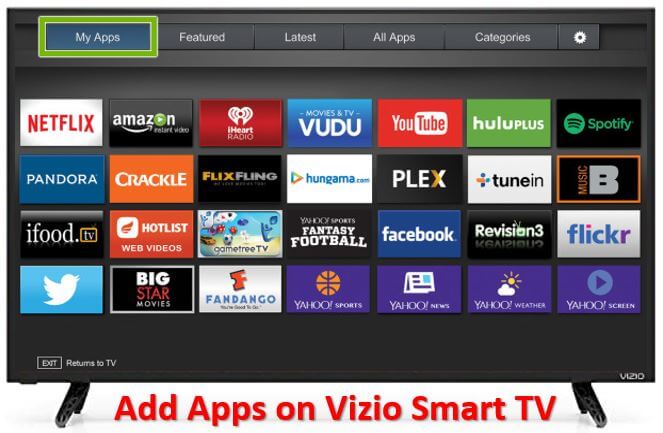 Since the TV industry has started, it keeps on emerging like never before. We're now getting the TV's with Android OS as well. Eventually, it becomes a Smart TV. With this, you can bring the apps that work for your phone onto the TV.
I'll make this simple and short, you just need to stick to the page and pursue the points as I make them below.
To add or delete any application to the Vizio TV, it depends on what type of platform does your Vizio Smart TV is using. Let's see the different types of Vizio TV Platforms.
Vizio Internet Apps(VIA): This platform was introduced on Vizio Smart TVs released between 2009 to 2013. We can install the apps on this TV.
Vizio Internet Apps Plus: These are released between 2013 to 2017. In this type of TVs also, you can install the apps.
Smartcast with No Apps: It is released in between 2016 to 2017. You can not add or delete the apps. Need to use the core apps only.
Smartcast with Apps: This version is released around 2016 and 2017. Here also, you can not install the apps. But it allows you to cast the content from a phone, tablet or computer.
Before proceeding further, make sure which type of Vizio Smart TV that you're having.
Steps to Add apps to the Vizio TV
Turn on the TV.
Makes sure it is connected to the active internet connection.
Take the remote and press V button or Home button twice.
On the TV screen, you will see all the installed apps under My Apps tab.
If you're looking for some other app which is not on the list, then browse through Featured, Latest, All Apps and Categories tabs.
Select the app that you wish to add and hold the OK button on the remote as instructed.
After that, you'll see a prompt saying that the App has been added to My Apps tab.
Delete Apps on Vizio Smart TV
Similarly, press the V button or Home button on the remote.
Go to My Apps tab.
Choose the app that you want to delete and press the OK button and hold for the further instructions.
On the bottom right, you will see an option Delete. Select Delete and press OK.
Next, confirm the app to delete.
How to Install third-party applications on Vizio TV?
Well, we have seen how to add and delete the apps(From Apps store) on Vizio Smart TV. You may get doubt how to add third-party apps to the TV. I will show it to you in the next segment.
There are mainly two methods which will help us in installing third-party applications.
SmartCast Method
Using Amazon Firestick
1. Using SmartCast
The SmartCast feature comes preinstalled on your Vizio TV. It allows you to access some of the SmartCast core apps that can be directly installed on your TV.
If you would like to install any apps other than core apps, we don't have many options.
First of all, download Chromecast compatible apps on your smartphone. It is like a prerequisite for this method.
Next, go to Google Play Store/ Apple App Store. Install the app that you wish to see on your Vizio TV.
Establish a connection between your TV and smartphone by using Chromecast. Open the application on your phone. Now you should be able to see content playing on your TV.
2. By Amazon Firestick
It's a very easy method as you just have to connect the Firestick device to your Vizio smart TV and start exploring contents.
Connect Firestick to your Vizio Smart TV. On the home page, you can see the apps which are trending.
There is a magnifying glass at the top right of the page, click on it and search for the application that you're looking for.
Click on the app icon and then go for download. Depends on your internet speed the app will be download.
Right away you can open the app or go to the home page, the latest application that you installed should show up on the Recent Apps section.
FAQs
Can I add or delete the apps on all types of Vizio Smart TVs?
No, it depends on the Smart TV platform. Only VIA( Vizio Internet Apps) and VIA Plus Vizio Smart TV's are compatible.
Can I get the app installed on TV by using SmartCast?
It only allows you to cast the content from your smartphone to TV. You can not install the app on Vizio Smart TV.
What are the Chromecast apps that support for SmartCast Method?
Local Cast & All Cast are the two prominent Chromecast applications.